Sightseeing Wat (Temple) #Bangkok
Wat Saket Ratcha Wora Maha Wihan (Golden Mountain) is known among foreigners as golden mountain which means high mountain and overlooks the view of the Rattana Kosin Island. Golden Mountain is 80 meters tall and inside the pagoda is the Buddha's relic welcoming all those who come to worship all year round.
Wat Arun Ratchawararam is an old temple built prior to Ayudhya era (before B.E.2310). It is located on the west side of the Chao Phraya River which the temple and the arts inside have been continuously renovated and many pieces are also added. Phra Poramin Maha Bhumibol Adulyadej Mahitalathibet Ramathibodi, King Rama 9 has taken the initiative to renovate many pieces, especially Phra Prang which has received great renovation and a worship ceremony was organized prior to the renovation, on Wednesday the 27th December 2510. The renovation was successful and the beautiful result is on display till this day.
The Marble Temple it is well-known for tourists throughout the world as "The Marble Temple" because its hall and veranda are decorated with the best marble imported from Italy. It is such a beautiful and artistic temple consisted of ancient Thai architecture therefore there are large amount of Thai and foreign tourists visit this temple daily.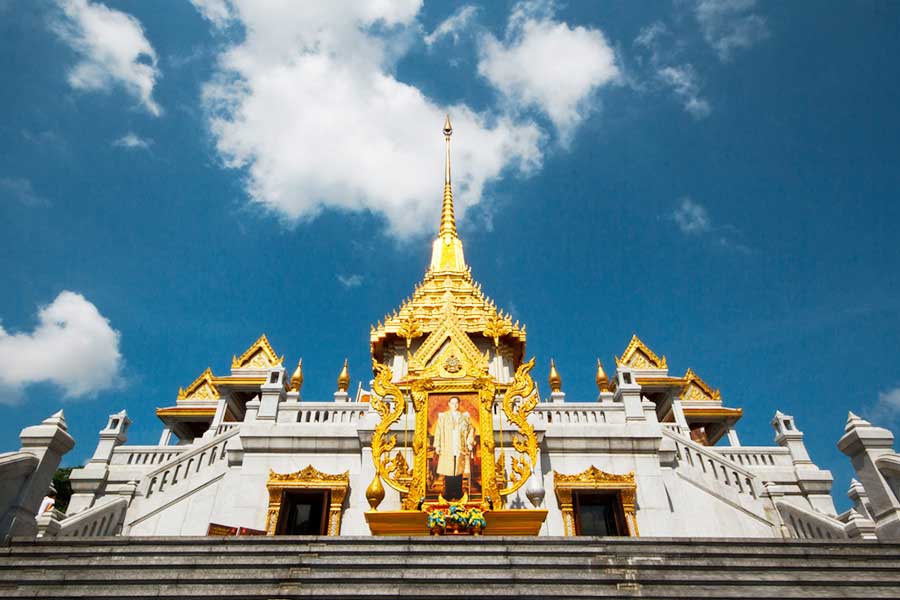 Wat Traimit Witthayaram Worawiharn is where the largest golden Buddha, almost 5 meters and weighs 5.5 ton. The Buddha at Wat Traimit was found accidentally while it was moved, causing it to fall and hit the floor causing the casting on the base to fall off revealing the pure gold inside. The lime is then all peeled off and was displayed on the monastery to this day. Inside Wat Traimit Witthayaram Worawiharn comprises of "Yao Warat historical center" on the second floor, the old commercial area of Bangkok which has been developed from the Chinese who entered Thailand to make a living. The third floor is "the Golden Buddha exhibition" where inside is a Multimedia Theatre showing media mixed with light, sound, and image animation combining with Wat Maha That Klang, Sukhothai. On the fourth floor locates "Phra Phuttha Maha Suwan Patimakon" or "Golden Buddha Sukhothai Traimit", in Mara Vichaya posture made of pure gold and has been recorded in "Guiness Book" as "the biggest pure gold Buddha in the world."
MustThai, grocery online has everything uniquely Thai, with up to 1000 Thai products! Tracking numbers for every order. Save money when compared. Guarantee!!
Please consider our online Thai grocery.
https://www.mustthai.com